Nebraska City, Nebraska
It has been reported that the treated area of this corn field yielded 100 bushels/Acre more than the untreated area. This is a Nemaha River valley field with a CEC of 14 and 32% Mg.
Most of the field was treated.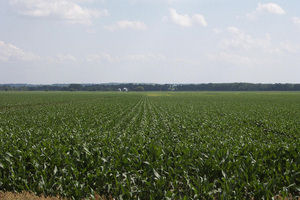 The yellow area in the distance is the untreated area. The rest of that end of the field was treated with 1 ton/A and the middle was treated with 1000#. If you look closely you can even see a little line in the middle where the treatment ended. This field has magnesium levels of 532 and 32%. The soil sample I had showed no sodium, but it does apear to have some alkali spots also.