Blair, Nebraska
It has been reported that the treated area (1.5 tons/A) of PRO CAL 40 was 30 bushels/A better than the untreated area.
This field is in the Missouri River valley and has a CEC of about 28 and 27% Mg (gumbo soil). There was also a poorly drained soybean field that was treated with PRO CAL 40 two years ago that yielded 67 bushels/A. The best this field had previously done was around 45 bushels/A.
The field was partially treated.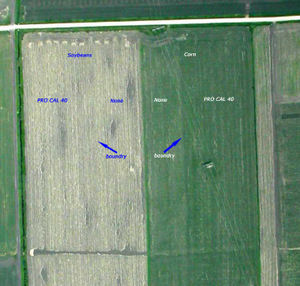 Aerial view of corn and soybean fields. The east half of the picture is corn. The west half is soybeans. The darker green area (about east 2/3) in the corn is where the PRO CAL 40 was applied. The west 2/3 of soybeans was also treated and if you look closely you can also see a slight darker color in them as well, but it is not as obvious. That is mainly because there is less leaf canopy in soybeans than corn on this date.