David City, Nebraska
In this application, PRO CAL 40's effectiveness is evident in how full the plant rows are where applied. Areas with no PRO CAL 40 show their rows clearly.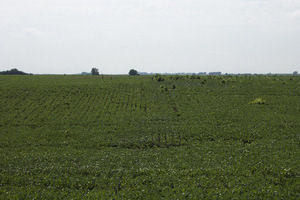 Partially treated field: The soybeans on the right side of the picture have received one ton/A of PRO CAL 40 in April of 2004. This picture was taken in July of 2004. Note that the rows are filled in (no soil seen) where the PRO CAL 40 was applied. The soybeans are also more green where they were treated.